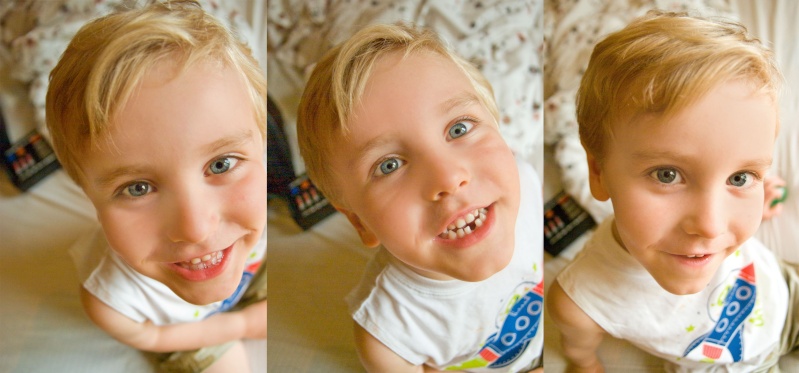 Every night we go through a ritual that we call "musical beds". One night Jakey will start out in his bed, Scot and I sleep together, then Jakey comes in with us, I move to the guest bed, Jakey comes after me... and so on! We switch bed about 2 times a night.
Bedtime has started to be a nightmare. Something I think about all day long.
He will cry and whine about going in his bed... well then after a while I would just let him fall asleep in my bed since thats where he will end up anyway... since a few weeks that's not good enough. He wants me to fall asleep with him.
Lets look at the alternative: He will scream bloddy murder, he will get out of his bed a million times (believe me not even the Supernanny would have the patience for this), he sneaks downstairs and hides somewhere... sits there really still so I think he is finally asleep upstairs, he locks himself in my room and just turns on the TV AND knows to turn it on very low so I won't hear it. He calls me because he is "scared of the dark", needs a drink, needs to poop, needs to pee, needs me, needs this, needs that...
There are two nights a week I like to watch TV... in peace! Thursday and Sunday night. Thursday I love the comedies and Sunday all in want to watch is the Amazing Race. Do you think I get to watch 10 minutes at a time? NO!
See, and what makes me so furious is that we are talking about the little angle who I would lay down and he would fall asleep in his own bed AND on his own and would sleep all night in his own bed... something has changed! I am blaming it on turning 4!
I have tried to give prices, rewards, take priviledges away etc... nothing works.
We start him out at 7:30 and if I am lucky he will be asleep by 10pm... of course in my bed and me next to him.
Tonight... he wasn't listening at dinner so I told him he needs to go in his bed. Surprisingly he went and he is asleep now but I know he will be up again in a few hours. Before he fell asleep I told him for that every time he gets up or I hear a peep I will come in and take a toy away. I doubt he will remember that at midnight...
I want my little boy back who all you needed to do is give him a kiss and tell him "don't let the bed bugs bite you" and he would drift off into dream land.